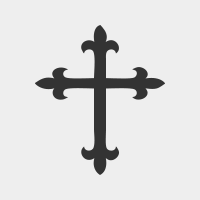 February 18, 2021
Do you have any pet peeves? One of mine is when people love to advertise the good deeds they have done. They "pay it forward" – but the first thing they feel inclined to do afterwards is post their good deed on Facebook or Instagram. What it turns into is a pat-on-the-back; "oh you are such a good person" "Oh thank you!" Kind of like selfies. "Oh, you look beautiful." "Gee thanks!"
Lent is a time where we are supposed to give up something for 5 weeks – right? To bring some humility into our lives. So, this Lenten season, if you're going to try to put some extra effort into this business of "living the life of faith" – that's great! But this year, let's try to not advertise our our good deeds nor our self-denial; self-examination and all that you are striving for and know that you've missed, attempting to recover what you think you have lost. Let's give up complaining (not an easy task), and bragging about or patting ourselves on the back when we have done something good.
So, this Lent, when we need that boost – that pat on the back; an "atta girl" (or atta-boy) Jesus, tells us this morning to slow down, wash your face, slap on some oil so you look as if you're blooming, and smile; think about others, make their day, and never let on what a struggle this year has been or how hard this new discipline this is. Don't even mention it. What a concept. Giving and paying it forward without telling anyone. Only your Father who is in secret then will know; and your Father, will reward you.' That is what scripture says about "fasting", so if that's true about fasting, it's also true about every other religious discipline – when we give, and pray; in our silent meditation and bible study; our repentance and acts of compassion – in your selfless act of faith in private, you will be rewarded.
Why is this an important Christian practice this Lenten season? Well first of all it is important that we remember that faith is not about outward changes, but inward spiritual changes. It's about the intentions behind our acts, and what motives us. Why do we do good deeds? To say; 'Hey, look at me? Or because we really care about other people and it is the right thing to do? 2) Self-denial isn't self-denial at all, when our whole objective is in the hopes people will say good things about us. Being talked about (good or bad) doesn't contribute one little thing to what you as a person really are. We all enjoy accolades – but what does it do for our spiritual growth? What does it do to build our closeness to God? To grow spiritually – is inward – spiritual; a strength that is unseen. 3) The encouragement to giving – or giving up, in secret, isn't encouraging us not to do these things. Jesus doesn't say 'don't fast,' 'don't pray,' 'don't give alms.' No, he says, 'when you do …, when you give alms, when you pray, when you fast.' Do these things and more, but don't do them ostentatiously. Be quiet about them, and you'll find that some of the quiet, loving humility of God will rub off on you!
There's wisdom in giving up and letting go in Lent, but that wisdom isn't found in show and flamboyance. It's found in a quite blessedness – 'and your Father who sees in secret will reward you.
Ashes are the residue of death. They are the ruins, the remains of something no longer alive, no longer with us. Ashes are all that's left when a house burns down or when a body is cremated. And so, it is fitting that we wear this sooty tattoo as we identify with Jesus and his journey toward the cross. A journey into, not around; suffering. But the irony is that Jesus says that outward displays of piety are dangerous—they can lead us to be proud and self-congratulating. They are what hypocrites offer to God and to the world. I suppose that is why I am always a little uncomfortable visibly wearing ashes on my forehead, since Jesus urges us to be about the work of justice and prayer discreetly and in secret – and this calls attention to ourselves "see what I did, see who I am…." Goes against what Jesus is teaching. But, we don't receive this sign of the cross as a symbol of our own righteousness. We receive the ashes because we've been asked to humbly acknowledge our human weakness; knowing that it is only in him that we are strong.
The black sooty cross that we receive and wear on Ash Wednesday is ultimately a sign of love, for it is the Love of God that conquers the cross. Out of the ashes we are loved and marked as God's own beloved sons and daughters.
Let us pray: Loving Lord, at the beginning of this Lenten season, we are met with the challenge of handing over every bit of our lives. We realize we need to let go of those things that clutter our lives, and all that distracts us from the simple truth of Your love for us. Your prophets have called us to change the way we worship—to make internal sacrifices instead of external ones. To seek justice, and love kindness, and walk humbly with You each and every one of our days. If we don't give anything up for Lent, then let us at least give up this: that we might let go of ways of living that disconnect us from You, for every one of our steps is like a circle back to you. Perhaps this Lent, we can give up our way; and give ourselves to Your will and your way for our lives. So, lead and guide us on this Lenten season. May we walk with Jesus toward the hill just outside of Jerusalem. May we like Him take up our cross and follow, spending each moment of our lives living responsively to You, just as Jesus did. We pray for all of those who have no power and mere survival is a struggle this winter. Draw near to them and others who are unspoken on our hearts this evening – We pray in Jesus name who taught us to pray – Our Father…..
Rev. Jil Jennewein